Things I Love About Japan: Mascots

December 4, 2015 by Leslie Anderson
Dave and I are recently back from an amazing two-week adventure in the historical city of Kyoto, Japan. While I sort through everything we brought back, I can't help but linger over some things, and one of the most consistent themes of the trip was mascots.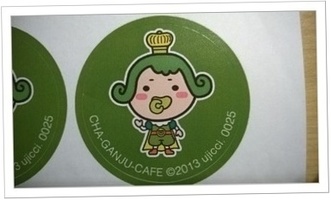 This is Uji-chan. He's the toddler-prince of Uji, which is the green tea capital of Japan. In this town of expensive and elegant tea shops, this little prince is everywhere. And I love it. Depictions of him range from the normal (drinking tea, eating green-tea treats) to the somewhat unexpected (dressing as a samurai, sleeping in a tea-bowl).
Something about him made me unreasonably happy, so I couldn't leave Uji with an Uji-chan souvenir. I settled on a coinpurse. When the clerk bagged the coinpurse in an equally adorably bag, I couldn't help but squee and babble about how cute he was. Happy with my excitement, the clerk grabbed a full sheet of stickers of the little prince and tossed them in for free.
This is not the only time I got something for free because I was so genuinely-to-my-toes excited about something I was getting. Enthusiasm in Japan seems to be met in turn.
Part of the reason I love Uji-chan so much is because he's cute, but I think the reason I am still squeeing about him weeks later is because his very existence tells a story and my brain is happy to fill in the details in the form of a mental comic strip: Uji-chan tries out for soccer, Uji-chan needs a nap, Uji-chan's perhaps had too much caffeine for one day. Since Dave and I enjoyed Uji so much, having a mascot that personifies that place is nice to have around as a memory. When I pull out my coinpurse, it reminds of browsing stores and eating or drinking endless samples and the restaurant where we slurped down green-tea noodles and watched the sun on the river.
Clearly, I really like Uji and Uji-chan.
Another mascot amused me endlessly, though for a much simpler reason, is Himeji castle's mascot.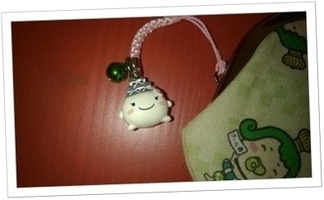 It's adorable and silly and a bit funny from a Western perspective. I don't know what her name is, probably just Himeji-chan, but I love that a centuries old castle has essentially been reduced to a hat.
Much like the toddler-prince, Himeji-chan was everywhere: on signs, in stores, and, if you're lucky, in person. Again, I couldn't leave without a Himeji-chan of my own in the form of a tie-on. She hangs out with my Uji-chan coinpurse. Mascots unite!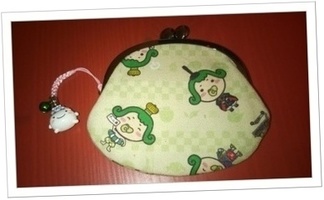 While I find Himeji-chan hilarious, I don't connect with her so deeply because she's just a personified castle, and thus my mind doesn't come up with stories about her. I assume when no one's around, she's just a castle. I assume when no one's around Uji-chan, he gets into all sorts of mischief.
Between Dave and I, I was clearly the most amused by Japanese mascots, but we were lucky enough to stumble upon one that made even Dave go all happy and stupid. We had just arrived at Kyoto station after a day trip, and were heading to our hostel. Just outside the station a crowd had gathered around three mascots, and a cheerleading squad besides. We slid to a stop and waited for whatever was going to happen, sure that it would be awesome.
The cheerleaders did an amazing job: flips, pyramids, and all sorts of things I can't imagine doing were accomplished with ease, right there on the concrete. The mascots abstained from the hard parts of the performance—they mostly walked on and off stage and waved—but something about the one tan-blob wearing sumo attire really demanded attention. I have no idea what he was a mascot of, but darn it all if I didn't want to give him a big hug. Dave felt it too, because throughout most of the performance he made little squeaking sounds, and he stared at that silly, adorable mascot with wide, happy eyes.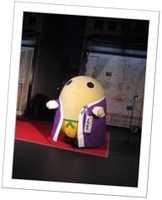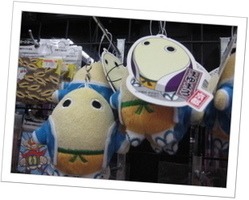 Dave's other favorite mascot was nearly everywhere: The ICOCA platypus who sold train passes. Come to think of it, doesn't he look like Perry the Platypus?
It's such a funny, simple difference: The United States has logos, Japan has mascots. It feels so much bigger than that in person, though. I think John Oliver sums up the feeling of all these mascots rather well. Even if some of them are a bit … odd, I'd vote for mascots over logos any day.