Japan Day 1: Flight to Osaka

January 11, 2016 by David T. Allen
It is with great pleasure that I am returning to Japan, this time with Leslie. It has been five years since I lived in Sapporo, Hokkaido, but looking back is like watching a movie of someone else's experiences now. I might even have a hard time believing I had ever lived in Japan, if it weren't for recently seeing my old friend, Tomohiro Suenaga, when he came to visit Pittsburgh and we travelled together to New York City.
This first article is a bit uneventful, since it only covers our flight and landing in Osaka on November 9, 2015. Pittsburgh to Osaka is a long trip, after all.
How We Decided On Japan
My co-worker and friend, Cory Trimm, recently found a round-trip flight from Philadelphia to Tokyo for only $900.
From my study abroad trip in 2008:
Round-trip flight to Sapporo #1: $2,400
Round-trip flight to Sapporo #2: $1,800
¥100 = $1.20 (and I had to spend less than $200 a month)
Compare to 2015:
Round-trip flight to Osaka: $1,361
¥100 = 85 cents
I didn't want to drive to Philadelphia, since travel was already over 20 hours, nor did I want to visit Tokyo this time. What I really wanted was to show Leslie the Japan I had fallen in love with. This meant returning to Kyoto, the old capital of Japan and home to many treasured historical locations. I also heard we had the best chance of remaining vegetarian in Kyoto, since many restaurants supposedly serve Shojin Ryouri, or Buddhist cuisine.
We actually watched what few flights were available dwindle as we shopped around, so we didn't discuss much and just booked the tickets immediately, leaving the challenge of booking rooms. Unbeknownst to me, we were travelling near peak leaf viewing season, and the Japanese love autumn's leaves almost as much as they love spring's cherry blossoms. It was difficult to find private hostel rooms for two people, but Leslie managed to book our stay in three different hostels.
The Twenty Hour Journey
We tried to pack light—one regular suitcase, a small rolly suitcase, and two backpacks. I still feel like we overpacked, but autumn travel requires a gambit of cold and warm clothes, and I'm still fighting the flu.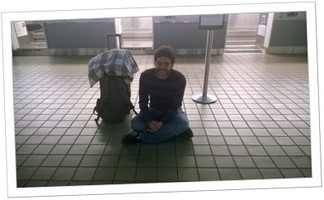 I worked from home last week, quarantining myself from my co-workers. At the beginning, I couldn't even sit for half an hour without feeling dizzy. Leslie purchased a $100 medley of medication, and I experimented to find a combination that worked. In the end, Nyquil Severe Cold and Flu reigned supreme, as it let me sleep through the night, and sleep is what ultimately improved my condition.
Our 5-hour flight from Pittsburgh to California streamed movies to Android and Apple devices. We were out of luck, since we used Windows phones, but such a short flight was no problem, as our carry-ons were brimming full of things to entertain us. I hadn't played video games much recently, since I'd been so focused on work and writing, so I looked forward to enjoying the nostalgia. My media of choice was Pokemon Heartgold.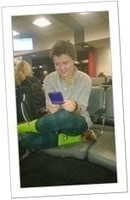 While waiting for our Osaka flight in California, the neighboring Tokyo bound plane also only streamed to Android and Apple devices. We were slightly concerned our plane would be the same. I hope this isn't a new thing, as it requires everyone in a family to have their own device, but perhaps this is just United Airlines retro fitting older planes as a convenience.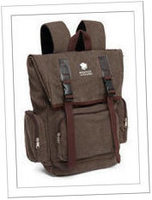 We were lucky enough to have a new plane. The windows did not have sliding covers; instead you had two buttons to adjust the tint. It seemed like overkill technology to me, but I suppose it saves time during landings since there's probably a master switch to set all windows to the same tint. The future is now.
The media contained a wide variety of movies, TV shows, and, surprisingly, podcasts. Again, Leslie and I spend almost all of our time writing, so we were looking forward to catching up on movies.
The navigation menu on my screen was broken, preventing me from pressing back, so I was stuck in Movies in Japanese which had surprisingly few Japanese movies, but dubbed American films like Mall Cop 2. I can't say I was thrilled by the selection. In front of me, a man also had a broken screen and was stuck on the Grammar Girl podcast. I considered myself lucky.
Eventually, the flight attendants reset the media software, and my touch screen worked! I watched Harry Potter 1 for the first time in years. I saw two Japanese films, Initiation Love and April Fools.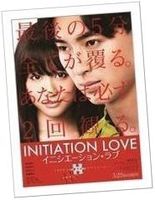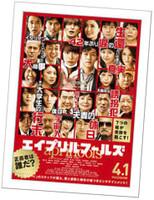 Initiation Love was a bit gimmicky, but entertaining nonetheless.
April Fools was especially strange. The movie was equal parts over-the-top ridiculous, funny, sad, and beautiful. Based on the first thirty minutes, I hadn't expected to tear up by the end.
From the corner of my eye, I caught glimpses of Wedlock, a web series that had Leslie cracking up. It starred Mark Duplass, the actor from Safety Not Guaranteed, which is one of our favorite movies. (After all, a genre called mumblecore is automatically appealing to us.)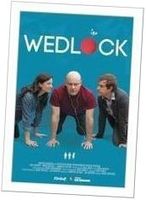 To my side was an older Spanish couple. Leslie woke up and found them holding hands, and called them cute. I corrected her, saying just an hour ago they were aggressively making out, and the woman had opened her eyes while kissing and stared me in the eye. It was among the weirdest experiences I've ever had.
The plane food wasn't bad. Our friends, Megan and Dave, said they always get vegetarian meals on flights because the meat is usually gross. Unfortunately, there was no vegetarian breakfast option, which shocked me since breakfast should be the easiest vegetarian meal for an omnivore to prepare.
Arriving In Osaka
We touched down in the Kansai airport, withdrew money from the ATM, and caught a bus to Osaka. En route, I realized we had booked our rooms for the day before. I hadn't accounted for an entire day being gone for travel, and we had misread our tickets. We hoped our hardest that we still had a place to stay, since private hostel rooms were booked solid before we left.
It was drizzling, but we were able to follow the directions provided by Guesthouse U­En's confirmation email. The difficult part was finding the station from whence the directions started. I asked a woman on the street for directions to the station and it got easier from there.
Tip: If you plan on going to Japan, pick up a few phrases beforehand. Asking directions is much easier than trying to read the signs. Finding your way when it's raining is even more difficult.

Tip: If you're traveling as a couple, want to keep it cheap, but don't want dorm rooms, find hostels with private rooms. A private room at Guesthouse U-En in Osaka was only ¥6,600 a night (about $56).
The hostel was beautiful, and they did have a room for us—but it was a bit more expensive since it was for a group of four or more. We weren't about to shop around, so I took it, and paid for the room we didn't get the day before.
I was ecstatic to have a tatami room. Many of my best nights of sleep had been in tatami rooms, and I'd love to put a tatami room in my house some day. Leslie was concerned the hay smell would affect my allergies, but I rested easily.
The following day, we saw a little of Osaka, the biggest attraction being the whale sharks at Osaka Aquarium.
Click here to check out Guesthouse U-En in Osaka. They have free longer stays (3+ months) in exchange for willing to work. I may consider this, some day.