5 Of My Favorite #PitMad YA Novel Pitches

June 12, 2016 by David T. Allen
Usually, after I wake up, I feed the doggies, let them out, pat them on the head, and get straight to freelance work. After just telling Leslie last week about how we need to get back to querying, I thought the #PitMad competition would be a good warm-up. I like the competition approach, because I prefer to submit to agents that have shown an iota of interest in our work more than cold querying.
My Submissions
Our previous #PitMad entries were a result of hours of work. Distilling the start of a 5-book series in less than 140 characters is a challenge. Do I drop this hashtag, which might help an agent filtering on tags find me, at the expense of ruining sentence flow?
Anyway, I had to get to work, so I pounded out three tweets in twenty minutes, sent them to Leslie for approval, then scheduled them in Hootsuite. I'm including them here, not because I'm proud of them (I'm not), but as an example of something that was done quickly and still got two nibbles.
It's about how an 18yo girl, a tarot reader, a mogul, and his dog prevent mining tycoons from creating WMDs. #PitMad #YA #LGBT #Steampunk

(Original tweet by @bitlather)
Unaware she has her father's WMD blueprints, Raquel just wants to settle down with a good job and a comely young lady. #PitMad #YA #SF #LGBT

(Original tweet by @bitlather)
18yo engineering grad Raquel Vapeur evades a hot-air balloon salesman but finds herself in greater danger. #PitMad #YA #AD #LGBT

(Original tweet by @bitlather)
I included my tweets, first, because they pale in comparison to the others in this article. My only goal was to be informative. What's important is I tried—even though time was scarce.
As a result, we queried one new agent yesterday and compiled a list of agents that could be interested in our work. I'm excited to get back into querying, which is usually one of our least favorite tasks.
Additionally, we had no expectations since we didn't invest much time. It's easy to get disgruntled when there's no payoff after spending hours crafting the perfect text. By throwing something together at the last minute, there was no pressure to do well. I'm not arguing for dumping text in PitMad, but rather advocating trying things even when time is short.
My Favorite #PitMad Tweets
I watched the #PitMad-YA feed throughout the day, from 9:30am to 6:00pm, and noted anything that jumped out at me. In short, reading the #PitMad feed gave me an idea of what it must be like to be an agent who regularly reads hundreds of pitches. I think this understanding could be key in grabbing an agent's attention.
Not all of these received likes from agents. I don't know why, but I do know that they caught my eye.
I didn't organize them by favorite, as that would be very difficult for me to do.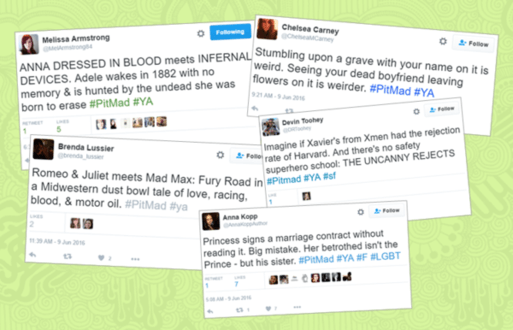 Background made by Adam and borrowed from
subtlepatterns.com under CC BY-SA 3.0 license.
X Meets Y: Action Ensues!
Romeo & Juliet meets Mad Max: Fury Road in a Midwestern dust bowl tale of love, racing, blood, & motor oil. #PitMad #ya
One pitch technique is to liken your work to something the reader knows. Relying on pop culture—especially a movie—gave these 107 characters vivid imagery.
X Meets Y: Steampunk Intrigue!
ANNA DRESSED IN BLOOD meets INFERNAL DEVICES. Adele wakes in 1882 with no memory & is hunted by the undead she was born to erase #PitMad #YA
I haven't read either of the works mentioned yet, but I recognize their titles. I tend to pause and read more carefully when the late 1800s are mentioned, because I'm fascinated with that period.
It also makes me ask questions:
Why was she born to kill the undead? Is this a Buffy the Vampire sort of thing? Who appointed her?
Where did her memory go?
Now, I want answers. The only way to find out is to read more. Melissa Armstrong really made her 128 characters count, and, at the time of writing, had attracted the interest of three agents.
Deadpan Ghosts
Stumbling upon a grave with your name on it is weird. Seeing your dead boyfriend leaving flowers on it is weirder. #PitMad #YA
These 115 characters are delivered in a manner reminiscent of Dead Like Me, which was one of our favorite shows in college. It also makes me ask questions, because that's a strange scenario.
Did You Read The Contract?
Princess signs a marriage contract without reading it. Big mistake. Her betrothed isn't the Prince - but his sister. #PitMad #YA #F #LGBT
Not reading a contract might be cliché, but the twist in this pitch immediately piqued my interest. I wouldn't know how to make this into a full-length book, but I'm imagining a fun romp with light romance, and I'm curious to read more. Three agents, a few editors, and a publisher also showed interest.
What If …
Imagine if Xavier's from Xmen had the rejection rate of Harvard. And there's no safety superhero school: THE UNCANNY REJECTS #Pitmad #YA #sf

(Original tweet by @DRToohey)
This tweet combines a pop culture reference with a hypothetical situation. What if … is a technique that's often used in startup pitches, as well.
More To Come
These were just five entries that caught my eye. I'll showcase a few more, soon, that employ even more pitch techniques.