Sprint 7: Two Week Goals are Here to Stay

July 1, 2015 by Leslie Anderson
It's been a month, man. Countless social obligations, endless work around the homestead, and a three-day plague of migraines. If that wasn't enough, I've been on the receiving end of some drama that left me bummed out.
Despite all that, though, I rocked my sprint. With one scope creep ticket completed, and one unfinished ticket, I'm counting this month 100% successful.
Planning two weeks at a time was a huge boon. It made it easy to know how much time I had, and I actually planned out my tasks day-by-day to ensure I didn't overload myself. I couldn't plan for a three-day migraine or unexpected drama, of course, but having attainable goals kept me motivated even when I was in pain.
On migraine days, I would rest when the pain was the worst, and rouse, medicated and wearing sunglasses, to edit. When the headache rallied again, I rested. It took all day, but I managed to go over Dave's edits for an entire chapter and posted it for critique.
Being able to reach my goals also kept me working when the pain wasn't physical. I let the drama swirling around me bum me out for a morning before the desire to "beat" this sprint got under my skin and convinced me to do some editing. Once I got into the groove, I felt so much better and the drama melted away. By the end of the day, I had gone for a run, played with the dogs, ticked off a few slips from the board, and spent time talking with Dave.
If my goals hadn't been so close to being accomplished, both migraines and drama would have probably knocked my productivity. I'd have spent about five days of playing video games, not because I wanted to, but because I wouldn't have thought myself capable of doing anything else.
Instead, I achieved all of my goals. Feeling satisfied with all that I'd accomplished, I played video games for a few hours Saturday morning and reveled in every moment of it.
Two week sprints are here to stay.
Dave also tackled this month with gusto. Despite spending more-than-average time at work and dealing with a lot of wrist pain, he accomplished all but seven slips. He completed four tasks that counted as scope-creep, though, which leaves him just three shy of also beating this month (ignoring deprioritized tasks, of course). Deprioritizing things helped keep him focus on what was possible, given the overtime.
June at a Glance
Accomplished tasks: 57
Scope-creep tasks: 5
Deprioritized tasks: 6
Unfinished tasks: 8
Not shabby, eh?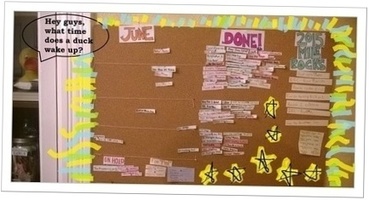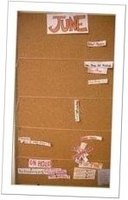 Takeaways
Plan your tasks by the day. Don't just fill the board with work, think about what's reasonable given how much time you have each day of the sprint.

Realistic goals keep us focused, even when life gets us down. If the board is filled with unattainable goals and things aren't going well, the board is just another negative thing. Having something you can conquer can shift to a positive mindset.
Next Sprint
My next two weeks will focus on "spreading the love." With as crazy as this summer has been, critiquing my friends has fallen by the wayside. That's bad. I'll also be picking away at sewing my costume and trying to inch forward on new material for Echo Chamber Heist, but letting my friends know that I appreciate them in the form of a bunch of critiques is my #1 priority.
Dave has come up with a great design for the website and is working on implementing that, as well as trying to keep up with editing, critiquing, and the other normal obligations he juggles.